Our Available Miniature Schnauzers

Saving the life of one dog isn't going to change the world,
but saving one dog's life will change the world for that dog.

Don't forget to sign our Guestbook so we know you visited us
Feel free to contact the foster parent listed in the rescue's bio for more information about that dog, BUT the FIRST step to any adoption is the completion and submission of our online application. Please CLICK HERE to complete our application to adopt.
Most of the time, the adoption fee an adopter pays does not cover the cost of the medical care these little ones need when we get them. Most need to be spayed or neutered, updated on all of their shots, and tested for heartworm. Some are sick due to improper care and need to be on medication or have other surgeries, which can be very costly. Thanks to your generosity, we can save another life and get him or her placed in a loving environment. To Sponsor a Rescue please click on the PayPal Button beneath the Rescue you wish to sponsor. It will take you to the PayPal log-in screen. The dog's name is filled in for you and you can complete the amount you wish to donate to help us out. Thank you in advance for your thoughtfulness and commitment to rescue.
Sponsor A Rescue
Special Needs Dogs Have Love to Give, Too.

Meet Rusty
aka Vinnie
UPDATE: Vinnie passed away in early August 2012. We extend our sympathies to Laura on her loss and accolades to her for giving Vinnie an awesome life with great quality, caring, and much love. God speed little one.


Vinny was one of our rescues. Although Vinny has already been adopted, we are posting him on this page as a representive of all Special Needs Dogs out there. Even a Special Needs Dog deserves a forever home, and even a Special Needs Dog can provide lots, and lots of love to his/her people.

This is a testimonial letter we received from the adoptee of Vinny.

Hi Nancy,

I think we have written back and forth before about his health issues with diabetes and his eyes. Just to update you, he has had diabetes for a couple years now. He is doing very well, with the exception of his eyes. Anyway what happened is, he got cataracts and within about a month of that I took him down to Ohio State Veterinary College. Unfortunately, they said he was not a good candidate for surgery, so at that time I was just given drops for his eyes. In a few months when we went for a re-check his eyes had gotten worse and they recommended completely removing them. They were bright red and looked swollen to me and basically were so inflamed that they were probably hurting him. It was a hard decision to make since I knew I would miss looking into his beautiful eyes, but we went ahead for his sake and took out both eyes. He was already blind, so it didn't really matter. Now he is doing just perfect. He gets around the house and yard, and in and out of the doggie door so well no one would know that he can't see. He has extreme sensitivity outside when we our on our walks to miss obstacles and change course so easily and is keyed to my voice so well all I have to do is say whoa and he shifts his direction.

What I wanted everyone to know is that a blind dog that has to get shots twice a day is really no problem at all. He is very easy to take care of and not seeing has not changed his personality. He still will play and wrestle with the other dogs and comes gets his loving when needed. Only thing he can't do is jump up and down from the couch or bed and yet he has done that once in a thunderstorm when he wanted down. Everything has worked out pretty good...except for my credit card of course. The operation was about $1000.00.

Hope everything is going well for the rescue group.
Take care,
Laura J.

Interested in one of them?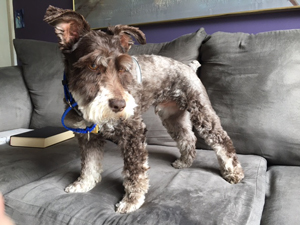 Jack
Hi, my name is Jack. If you are looking for a super sweet good boy, read on! I am about 4 1/2 years old, I love to be outside and go for walks, I love to meet new people, and I love to snuggle. I really love to snuggle! You guessed it - I have a lot of love! Something you need to know about me is I have colitis which flares up three or four times a year. I'm on special food - it is not super expensive - and my family needs to be careful about not giving me table scraps. So delicious going down, but my belly doesn't always like it! Did I mention I love to snuggle?! I adore children, but we have to be certain that nobody gives me anything other than dog food. And get this - I didn't know what a cat was before I went to my foster home, but I've discovered I like having a cat brother! I am neutered, up-to-date on shots, and ready to move into my forever home!

If you think we are a good match, here's how you can find out more: The first step in an adoption is to complete the adoption application by clicking HERE. You can contact my foster mom, Lisa M, in Northern KY at lamauthe@earthlink.net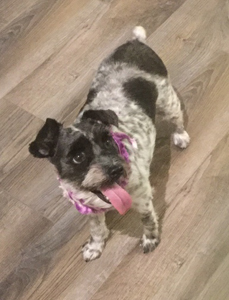 Sassy
......and here's Sassy. She loves to talk to you and about you, so the name fits. She will be 4 years old this summer and is full of energy and spunk. She wants ALL of the attention--so while she gets along with other dogs, she would prefer to be the ONLY apple of your eye! While she loves her toys, just like all kids, she takes them outside but won't bring them in. But, why should she? That's what foster Mom and Dad are for! She is learning to crate when no one is home to supervise and improving with this all the time. She's a smaller gal but a tad overweight, so we are "dieting" her. Since she wants to cuddle in your lap all the time, we suggest a home without younger children that might upset her by wanting to carry her or move her around. Sassy is very sweet and just wants to be your only and constant companion! She is extremely sweet and shows you she loves you by the near constant wagging of her tail! Sassy is up to date on vaccinations, heartworm negative and on preventive, microchipped, spayed, and ready to move into her forever home. Is it your's?

To adopt Sassy, apply online by clicking here to complete our application to adopt. Also found with the application are the rescue's general guidelines and policies for adoptions. For more information, contact Sassy's foster mom, Nancy in Cincinnati, OH at
kismet1@fuse.net <mailto:kismet1@fuse.net>
Support Sassy by clicking
on the PayPal Button